The Walker Art Center will reopen to members on Friday, July 10 and to the general public on Thursday, July 16. In response to COVID-19 and to proactively protect the entire community, the museum made plans to temporarily close on March 13.
 "We are excited that the Walker will be ready to welcome visitors back this July," said Mary Ceruti, Executive Director, in a statement. "We have made various changes for safety and comfort, and will continue to take every precaution for the care of all visitors, staff, and artists, but will finally be able to open our galleries to the public."
The Walker galleries will be open as well as the Walker Shop (by the MainLobby) and Esker Grove with modified hours, guest and staff protocols. Moving Image and Performing Arts programs will not be resuming until later this year.
The Minneapolis Sculpture Garden continues to be open at regular hours. The Garden is free, requires no tickets for admission, and is open from 6 am to 12 midnight every day. Guests are reminded to observe physical distancing practices and maintain a minimum of 6 feet from others while visiting the Garden. For more information about public parks and trails, please visit the Minneapolis Park & Recreation Board.
The Walker wants to remind visitors of enhanced safety protocols. Visitors over the age of two are required to wear masks, keep a distance of six feet from others outside their household group, and wash hands frequently. These protocols will be clearly communicated throughout the building and on the Walker website. The Walker aims to create a near-touch less experience for the visitor and will have hand-sanitizer units throughout, increased cleaning efforts, including hourly cleaning of high touch surfaces and signage to help guide visitors during their visit.
Walker members will be receiving more information directly from the Walker via email. The museum is open to the public starting July 16. Vineland Place entrance will be open; the Hennepin entrance will be closed. Visit walkerart.org/visit for more info.
To ensure limited capacity and space for physical distancing, the Walker is moving to a system of timed tickets sold online. Tickets will be on sale beginning June 30. All visitors, including children and members, will need to get a ticket before a visit, paid or free. Tickets can be acquired at half-hour increments for entry and will have limited capacity. 11am-12pm on Thursday and Friday are dedicated hours for visitors and their companions who have an increased risk of contracting COVID-19. Once an online ticket has been acquired, the visitor will receive an emailed ticket that can be scanned digitally or physically at the admissions desk in the Main Lobby. After entering, visitors can stay as long as the museum is open. Building visitation is limited to 25% capacity at all times.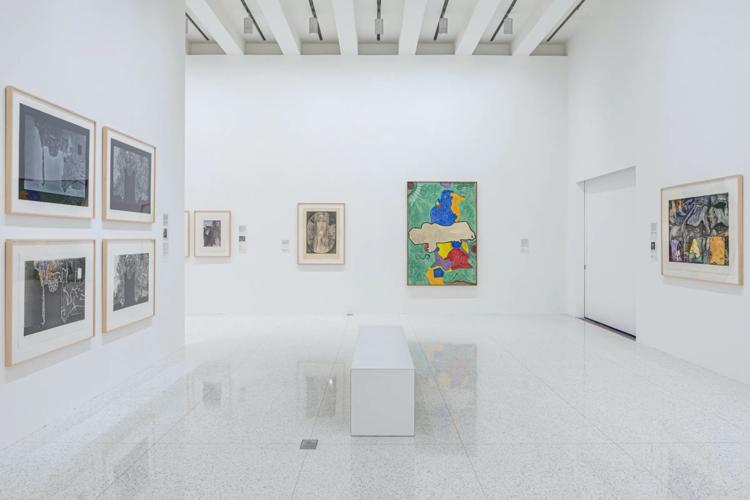 Gallery hours will be limited: Thursdays will be open from 11 am through 9 pm. Friday and Saturday hours will be 11 am through 6 pm. Sundays will be open from 11 am through 5 pm. Monday through Wednesday will be closed. Enjoy free admission every Thursday evening (5–9 pm) and on the first Saturday of each month (10 am–3 pm).
Exhibitions on view:
An Art of Changes: Jasper Johns Prints, 1960–2018
In celebration of the artist's 90th birthday, An Art of Changes surveys six decades of John's practice in printmaking, highlighting his experiments with familiar, abstract, and personal imagery that play with memory and visual perception in endlessly original ways. The exhibition features some 90 works in intaglio, lithography, woodcut, linoleum cut, screenprinting, and lead relief—all drawn from the Walker's comprehensive collection of the artist's prints. Exhibition closes on September 20.
Drawings Celebrating the remarkable collection of drawings recently donated to the Walker by longtime patrons Miriam and Erwin Keen, this exhibition explores the expressive potential of the human body. Richly varied in theme and style, the works on paper span more than a century of artistic experimentation. Featuring portraiture, social satire, erotica, and fantasy in mediums ranging from crayon, ink, and graphite to watercolor, pastel, and collage, the Kelens' works are joined by a select group of related drawings and sculpture from the Walker's current holdings. Exhibition closes on October 18.
Five Ways In: Themes from the Collection
With more than 100 works—painting, sculpture, drawing, photography, and video installations—the exhibition Five Ways In: Themes from the Collection invites us to become reacquainted with favorites from the collection and discover new pieces by artists who are reinventing genres we thought we knew.
Upcoming exhibition:
Opening July 30
Featuring works from the 1970s to today, Don't let this be easy is an institutional project taking the form of an exhibition, coupled with new scholarship and online publishing focused on women artists from the Walker's collection. The initiative is presented in conjunction with the Feminist Art Coalition (FAC), a nationwide effort involving more than 50 museums committed to social justice and structural change.