We have to solve the issue of poverty, the issue of hunger, the issue of war - spending billions of dollars to kill rather than to build.  The late Congressman John R. Lewis
The Biblical prophet Jeremiah was called to be an agent in God's hand, 'to uproot, and tear down; to destroy and overthrow; to build and to plant.  His main focus lasered in on confronting evil, unmasking fallacies, and refuting cherished beliefs.  But his work was also one of encouraging and speaking hope when there appeared to be none in sight.  It shows how God calls a person and waits for the man or woman to rise up in helping one another, especially our children.  Jeremiah was called to be a prophet and continued in that calling for fifty years.
In 1993, the Jeremiah Program was organized by Reverend Michael J. O'Connell, Rector of the Basilica of St. Mary in downtown Minneapolis, in partnership with the Minneapolis city leaders.  In 1998, the first campus was opened.  A diverse group of community residents became concerned by the increasing numbers of single mothers living in poverty.  Not only was systemic racism the root of this malevolent state-of-affairs for a large percentage of BIPOC women, but the lack of educational and career opportunities played a large role. 
Now, through a two-generation impact model, Jeremiah Program, helps single-mothers and their children by offering safe and affordable housing, life skills and confidence-building training, and support for career-track education.  They are prepared for the workforce and their dependency on public assistance is minimized.  Children have high quality childcare on the campus grounds in an intellectually stimulating environment with age-appropriate classrooms and outdoor playgrounds.  Through coaching, empowerment programming, and college coursework, these women are given an opportunity through faithful and generous donors to be of service before poverty becomes a way of life and an endless path of darkness and despair.  Campuses are located or in building phases in nine cities - Austin, Baltimore, Boston, Brooklyn, Fargo-Moorhead, Las Vegas, Minneapolis, St. Paul, Rochester, MN.
The fact is, more than 40% of children now live in a household struggling just to survive on bare necessities. These circumstances make it difficult for children to learn or be happy.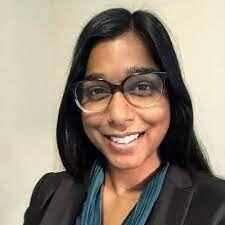 Susima Weerakoon is the Family Service director for the Minneapolis Jeremiah Program campus which is located directly across the street from the Minneapolis Community and Technical Academy.  Currently, she works with 20 women and their children.  There is a capacity for 40 and recruitment for the fall semester is now in full swing.  Due to the two-year COVID19 pandemic, virtual classes are offered along with the choice of living off campus if deemed more feasible. 
Weerakoon has worked in the field of human development, specifically early childhood, for over 9 years.  Her role with Jeremiah Program is to monitor each mother's academic and job-related progress and to make sure they are getting the resources they need. 
"My native Sri Lanka parents immigrated to the U.S. as teens with aspirations of eventually embracing the American dream for themselves and their three children.  I know about work ethic and how we must pay it forward and make a difference in our communities while getting to know our neighbors and support our educators and schools," Weerakoon says.  The newlywed and recent North Minneapolis first-time homeowner, said she believes no mother should have to make the untenable choice between investing in herself or supporting her children.
Mothers who enroll in the program must first complete a 12-week empowerment coaching class while also working towards earning a 2-year associate degree and ultimately transitioning to a 4-year academic institution.  They establish career goals, learn valuable life skills such as financial literacy and positive parenting expertise for both mother and child supported by a family coach every other week.  Jeremiah Program views empowerment as a place to potently pause, self-reflect, remember the strengths within, discern and consider what's next on the path forward, and dream boldly in a place where community is forged.  
Program participants also learn the realities of inherent and systemic racism that has historically contributed to oppression and poverty.  They are provided a strong network of other single mothers, agencies, and partners.  "Our intentions are foremost to disrupt the cycle of poverty and the mindset of hopelessness," said, Weerakoon.  "We have communities of professional support and accessible resources with a shared interest and visions of success.  Jeremiah Program is often referred to as a 'college persistence program.' 
Arreba Haider, a research associate for the Poverty to Prosperity Program at the Center for American Progress states that child poverty in the U.S. is persistent and structural, but solvable.  "There is agreement that on-the-ground programs such as The Jeremiah Program offers a proven, holistic approach to transform families with their comprehensive, two-generational assistance services, simplifying the access for families in crisis while simultaneously aiming for a better life for their child(ren)."
Members in the Jeremiah Program must enroll and complete the JP empowerment   course; enroll full-time in a collegiate program identified with support from the family services coaches; make satisfactory academic progress maintaining a 2.0 or higher GPA; participate in the Jeremiah Program 'Life Skills' courses and in the J.P. Resident Council; work part time and contribute 30% of earnings to the program; and if not working, volunteering is required.
Jeremiah Program envisions a world where poverty is no longer feminized; where race is not divorced from gender; where career and financial opportunities are not gentrified; and where women who experience poverty not only hold a seat at the table but hold the mic and curate the agenda.