Insight News is proud to partner with the Minneapolis Heart Institute Foundation (MHIF) to present a series of informative health-education conversations that feature people who are living with various heart issues. These virtual discussions, called "Heart-to-Heart Conversations," will take place over five weeks beginning next Thursday, Dec 10 at Noon.
Thursday's conversation kicks-off the series and will feature Insight News editor Al McFarlane in conversation with Dr. Courtney Jordan Baechler, a cardiologist and researcher with the MHIF, Dr. Mosi Bennett, a cardiologist with the Minneapolis Heart Institute and Stella Whitney-West, CEO of NorthPoint Health & Wellness.
According to the Minnesota Department of Health, African-American adults aged 35-64 die from heart disease at approximately two times the rate of whites of the same age in Minnesota. These numbers clearly demonstrate that while Minnesota is ranked as one of the healthiest states in the nation, not all Minnesotans share this distinction.  It is our hope that through these candid conversations, led by Jordan Baechler, we will bring attention to the disparities in cardiovascular health and outcomes.
This partnership with MHIF is part of the Insight Health Equity Action Lab (iHEAL) which is the newspaper's new approach to health disparities reduction in Minnesota. iHEAL will amplify evidence-based and transformative work that builds and supports healthy communities and puts people/community at the center of the process.
To participate in the "Heart-to-Heart Conversations," please register using this link. For more information, please contact: batalara@Insightnews.com.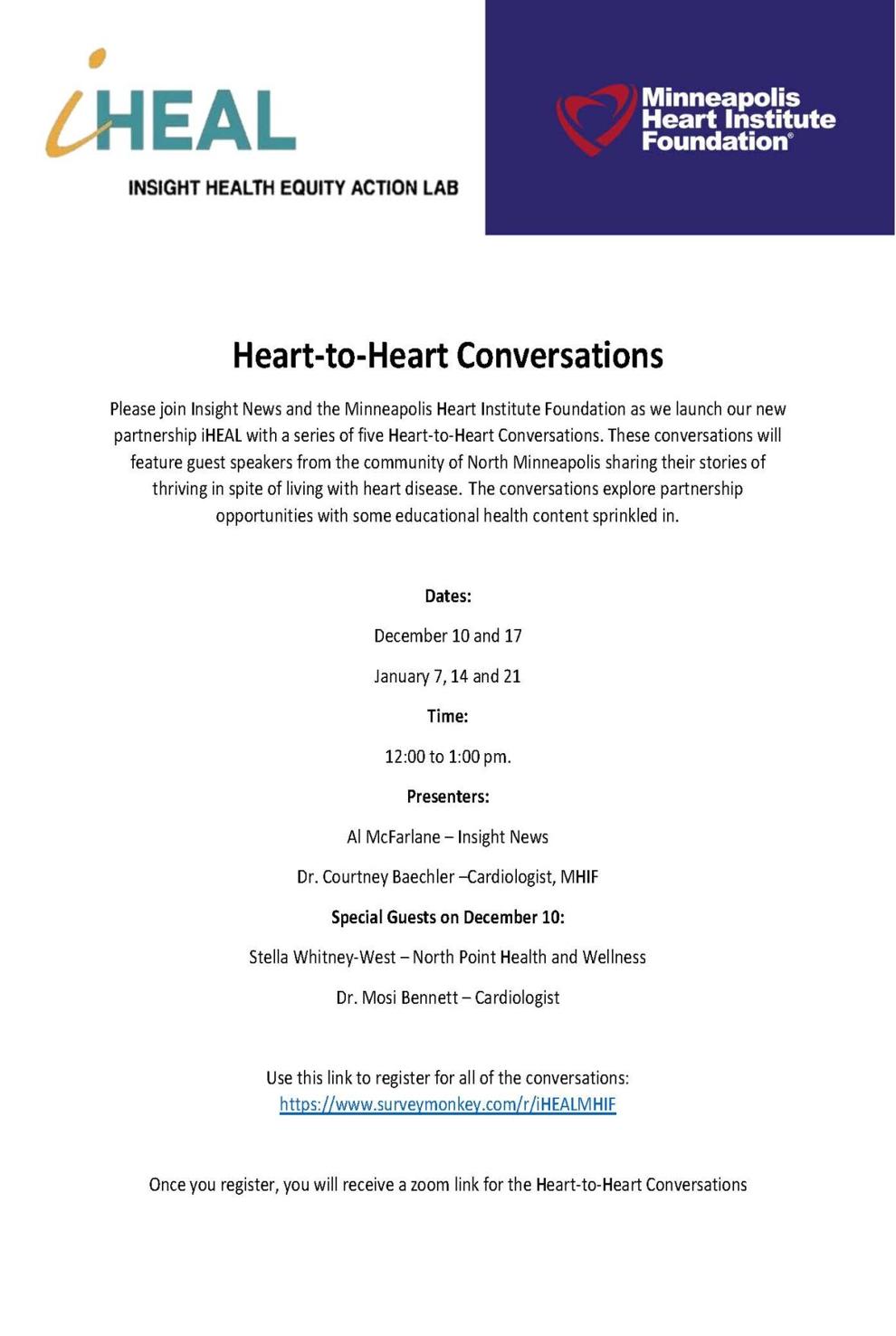 Be sure to stay tuned for updates on iHEAL.