On a chilly Friday morning, protesters rallied outside the Hennepin County Family Justice Center as a pretrial hearing in the homicide of George Floyd took place inside. 
Former Minneapolis Police Officers charged in the homicide appeared in court with their attorneys, alongside state prosecutors and family members of Floyd who flew in from Texas, North Carolina, and New York to attend. Protesters laid down in the middle of the street for 8 mins and 46 seconds each hour of the hearing. They wore masks and practiced varying degrees of physical distancing.
Judge Peter Cahill reviewed motions and issues raised by prosecutors and the respective defense attorneys of Derek Chauvin, Tou Thao, James Alexander Kueng, and Thomas Lane. All four men were fired and arrested by the Minneapolis Police Department within two days of Floyd's murder.
Cahill disqualified four prosecutors from the Hennepin County Attorney's office, including Mike Freeman, at the hearing. The judge promptly accepted a motion to reconsider his own ruling hours after the hearing's conclusion. Cahill did not make major decisions regarding motions filed by the former officers to dismiss their murder charges, or other contentious issues like where the trial should be held. 
Benjamin Crump, one of the lawyers representing Floyd's family, was the first to speak during a press conference held after the 3-hour long hearing's conclusion.
Protesters chanted "We got your back" as he approached.
"They are trying to kill George Floyd a second time. They made all kinds of foolish allegations, talking about he died of a drug overdose," Crump said.
 "I want to be clear about this, the only overdose that killed George Floyd was an overdose of excessive force and racism by the Minneapolis police department," said Crump. 
Floyd's family also expressed their frustrations with the defense's portrayal of their deceased family member. They emphasized the cruelty of his death. 
 "...My brother screamed and called out for mom, that hurt me--viewing that traumatic, haunting video," said Rodney Floyd. He recounted having to hide the video from his nine-year-old daughter, who found the footage anyway. The nine-year-old Face timed her father in tears and said "dad, I'm so sorry for your brother's loss."
"The attempts to take the case out of the community it happened in, the police exceptionalism, and the racist victim-blaming—all of this is why I am an abolitionist and a member of the Whittier Cop Watch," said Hilary Greenstein, who participated in the protest.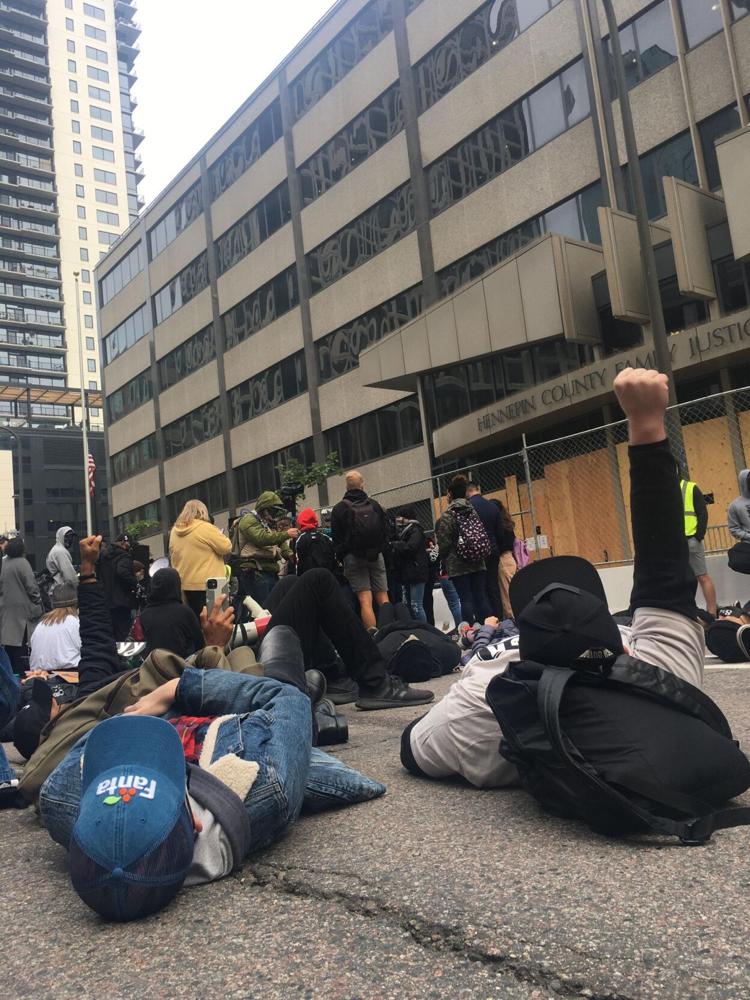 Alana Ramadan, a North Minneapolis schoolteacher and a founding member of the group Witnesses for Justice attended Friday's hearing inside the courthouse's remote viewing room to show her support for Floyd's family. Ramadan, who is also the primary caretaker for her elderly father, had a relative take over her father's care the night before. She knew she would have to arrive hours before the 9 a.m. pretrial to grab 1 of 21 passes the courthouse provides the public to view the proceedings indoors.
"There's a lot of psychological warfare that goes on," Ramadan noted, "I think with this case we're doing much better because we have people in the streets and in the courtroom." 
Outdoor protests were organized by many groups, including Twin Cities Coalition for Justice, Families Supporting Families Against Police Violence and Black Lives Matter Minnesota.
Minneapolis-NAACP Vice President Anika Bowie delivered a fiery speech during the protest, demanding justice for Floyd, underscoring the NAACP's anti-lynching movement history.
"We have to be the voice that ensures the narrative is focused on accountability," Bowie said in a separate interview.
Natya Stroud, a licensed nurse practitioner who grew up in North Minneapolis, said she has relatives who have been severely traumatized by Minneapolis police. "I was surprised to hear there was a similar killing that happened 10 years ago." She said, referencing David Smith, whose case was highlighted by attorneys representing Floyd's family. In 2010 Smith died in police custody after Minneapolis police officers placed a knee on his neck. The officers involved in Smith's case were never charged. 
"This family, they saw what happened," Crump told the crowd. "You all, Minneapolis, saw what happened. America saw what happened. The world saw what happened and so, who are you going to believe, your eyes or these killer cops?" 
Their voices answered him swiftly, in unison: "our eyes."