Amidst the burned-out husks of buildings and just blocks from the 3rd District police station, where many neighboring businesses were looted and burned, some bars and restaurants, their windows still covered in plywood, are opening for business.
But for Black-owned businesses the struggle to reopen is far tougher. With the help of community fundraising efforts and organized clean-ups, Black-owned businesses are slowly emerging from this crisis, but there is a long way to go.
Ladu Artema started Cellefix, an electronics repair shop, five years ago. During the riots in St. Paul looters broke the glass of his store front then "robbed it completely," he said,  "Laptops, televisions, LCD screens, cell phones — all gone."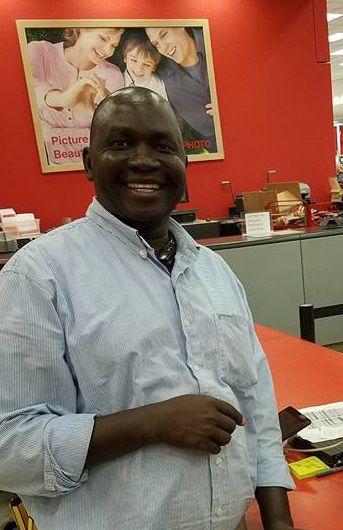 Artema was unable to find insurance that covered the whole of his business. Insurers were only interested in covering the money transfer services, the rest of the business of electronics repair was uninsured. So last year he canceled the policy.  He has lost everything and the chances of Artema being able to rebuild now falls on community fundraising efforts to help businesses like his.
Alexander Bourne, Minnesota Rapid Response Coalition (MRRC) has led a fundraising campaign to help Black-owned businesses get back on their feet. His volunteers have been busy with the clean-up efforts in neighborhoods and helped businesses with the removal of fire debris. But the majority of their fundraising efforts are to support Black entrepreneurs and restore the economic growth in the West Broadway corridor.
Bourne said, "Black businesses are hurting and the community has risen to the challenge. We received a  S15,000 donation from Amazon, but most of the money raised is from people from our community -locally and nationally-- giving what they can. It is humbling to see that people who don't have much give $20."
MRRC has raised over $50,000 for small businesses who need a quick injection of cash. The micro grants are aimed at entrepreneurs who are not eligible for the Paycheck Protection Program (PPP)  a  government program for small businesses with fewer than 500 employees where they can get loans to pay for workers' salaries, health-care benefits and sick leave, along with other key expenses such as rent and utilities.
But MRRC isn't the only organization who is fundraising for the community.  After the riots community groups have been turning to online  "GoFundMe" campaigns to help rebuild what has been lost.
There are hundreds of "GoFundMe" appeals ranging from funding individual businesses like Trevon Ellis, who lost his North Minneapolis barbershop. In an interview with WCCO news Ellis explained he was on a "two hour waiting list" before firefighters could reach his shop, Fade Factory.  In tears he watched his shop burn to the ground.  After this broadcast friends started a GoFundMe appeal, today it has raised $140,081.
Other groups have raised millions. We Love Lake Street has raised $6,119,119 and West Broadway Business  and Area Coalition have raised $1,912,916. But not all GoFundMe appeals are getting this type of attention.
Even with these GoFundMe appeals, Black-owned businesses will still find it tough to survive on their own, they will need  further investments to revive economic growth.
Mayor Jacob Frey is seeking state and federal aid to assist in rebuilding efforts.  Minneapolis officials are still tallying the damage caused by rioters, in hard-hit Minneapolis, local assessments are coming in around $1 billion.
Tawanna Black Founder and CEO of Center For Economic Inclusion wants Minneapolis officials to use rebuilding investment to address inequalities. "I don't want to see authorities just restoring Black-owned businesses to how they were before".
She believes that this is an opportunity where authorities can make a difference. "Black-owned businesses need capital investments so that they can buy the property instead of renting out a shop. They need access to resources, technology and access to talent in order to thrive."