"If not us, then who? If not now, then when?" decried Congressman John Lewis referencing standing up to protect voting rights in America. With the General Election quickly approaching, a diverse group of national organizations have joined forces for a three-day, virtual "Voting Rights Act Summit Weekend" to answer the call that Lewis proposed regarding protecting voting rights for all Americans.
Summit conveners include: the Rev. Jesse L. Jackson, Sr., Barbara R. Arnwine, Esq. and Daryl D. Jones, Esq. under the auspices of the Transformative Justice Coalition (TJC) and The Rainbow PUSH Coalition (RPC), led by Arnwine and Jackson, respectively. The Summit begins this evening, 6pm EST and concludes Saturday, August 8.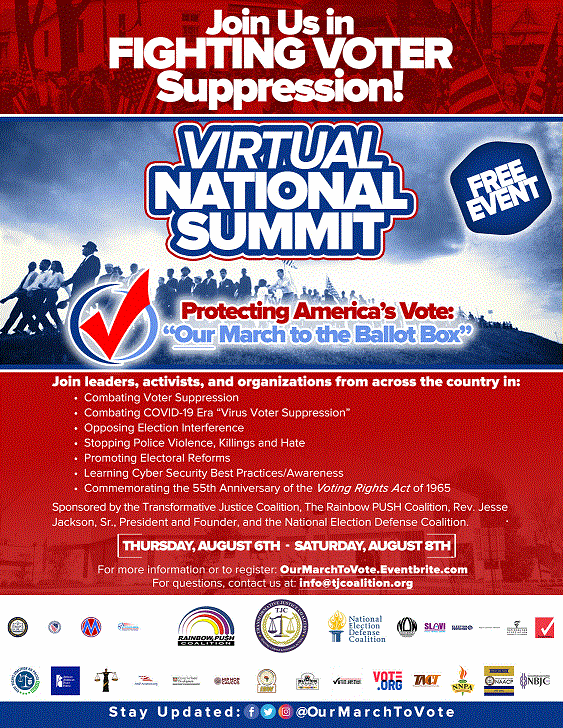 Arnwine, the founder and president of TJC and former president/CEO of the Lawyers Committee for Civil Rights under the Law, seeks to be a catalyst for transformative institutional change that brings about justice and equality in the U.S. and abroad. Jones currently serves as board chair for TJC.
Arnwine says we must not allow "virus voter suppression to infect our election."
"It is imperative that we provide safe options for all voters to cast their ballots, whether by mail, drop box, curbside or in-person voting," she said. "It is the bedrock principle of American democracy that people be provided the right to safely exercise their right to vote."
Jackson says protecting the right and facilitating the streamlined effort to vote for communities of color remains as important in 2020 as at any time in his storied civil rights career.
"There are many agendas out there but no agenda is more important than the vote!" he said.
This convening of leaders, activists and organizations from across the nation will talk strategy for: combating voter suppression; combating COVID-19 era "virus voter suppression;" opposing election interference; stopping police violence, killings and hate; promoting electoral reforms; providing cyber security's best practices and awareness; and commemorating the 55th anniversary of the Voting Rights Act of 1965.
 "55 years ago, Congressman John Lewis stood on the Edmund Pettus Bridge demanding the right to vote for people and communities of color. In 2020, we must stand together to be certain that the right to vote for people of color is not hijacked by voter poachers!" said Jones, TJC Board Chair.
Additional supporters of and spokespersons for the summit include: Ayanna Gregory, daughter of Dick Gregory; Thomasina W. Yearwood, president, Thurgood Marshall Center Trust, Inc.; the Rev. Bernice A. King, CEO, The Martin Luther King, Jr., Center for Nonviolent Social Change; Dr. Benjamin F. Chavis, Jr., president/CEO of National Newspaper Publishers Association (NNPA), Thurgood Marshall, Jr., Esq., son of Justice Thurgood Marshall; and the Rev. Dr. William J. Barber, II, president/senior lecturer, Repairers of the Breach.
This free event seeks to protect America's vote with additional sponsors including: the National Organization of Women, the National Election Defense Coalition, the NAACP, the Hip Hop Caucus, the NNPA (BlackPressUSA), National Education Association, Vote.org and Moms Arising.
For more information on how to participate visit:  www.votingrightsalliance.org.