We endorse Ilhan Omar for Congress.
This year's election cycle is proving to be one of the most critical in modern history. What's at stake? Our freedom. Access to quality health care, quality affordable housing stock, access to capital to fund small businesses, livable wages –our freedom.
Black and Brown bodies have been in this fight for freedom generations. Ella Baker, who in the 60s was a political strategist and has been called a radical democrat told us: "Remember, we are not fighting for the freedom of the Negro alone, but for the freedom of the human spirit a larger freedom that encompasses all mankind."
Freedom is guaranteed only when we have progressive leadership that is well-connected to the communities they serve. Leadership that is bold and holds a vision this is people-centered and leadership that is committed to working hard to "show that the American Dream is for everyone."
Omar's politics are progressive. And she is the leader we need at this moment –this moment that is seeing a wave of activism in response to what many are calling the double pandemics of COVID-19 and racism.
The freshman congresswoman who represents Minnesota's 5th district is Vice Chair of the Medicare for All Caucus, Whip of the Congressional Progressive Caucus and Midwest Regional Whip for the Democratic Caucus. She is a co-founder of the Black Maternal Health Caucus and has introduced the Student Debt Cancellation Act, Homes for All legislation and legislation to tackle child hunger by making school meals universal.
She believes that "often what is inherited by our children is trauma, disinvestment and that lack of opportunity. What we want to legislate is the inheritance of joy, equity, wealth and assets."
We had the opportunity to speak with Omar several times recently. On a Facebook Live conversation she said with humility that the 5th District seat isn't her seat. "This isn't my seat. This is the people's seat," said Omar. "I've been incredibly proud to have been elected by the people and work for the people in the People's House. We have carried a vision of inclusivity, a vision that is about co-governance, a vision that believes those of us who have been marginalized, who have not had a seat at the table, who have been told we are too loud and too proud to speak up, have utilized now to bring about change and transformative change."
Housing as a basic human right
Omar's Homes for All Act would expand the public housing stock by authorizing construction of 12 million new public housing and private, permanently affordable rental units driving down housing costs. The legislation guarantees housing as a human right.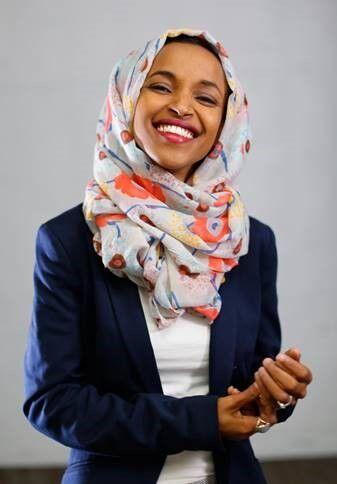 "Many of the deep disparities we have in our district and in our nation are due to systems that were created and codified in law," said Omar. "Here in the district when it comes to the rate of homeownership for the Black community in comparison to the white community, it's one of the worst in the nation and that's due to policies like red-lining and policies that have not allowed for equity to be built in our community. We can and will legislate these disparities out of our systems."
Healthcare as a basic human right
As Vice Chair of the Medicare for All Caucus, Omar supports a proposal that creates a single-payer system that would guarantee coverage for every American. Medicare for All, she said, is a racial equity issue, especially when nearly 50% of Black Minnesotans are un- or under-insured.
"Minnesota has the third highest rate of asthma in the nation. These rates are alarming to me," said Omar.
"We also know that Black women die giving birth at a rate 4x higher than their white counterparts. The maternal mortality rate for Black women is similar to women who are living in countries where there is almost not healthcare infrastructure. To live in the United States, one of the wealthiest nations and to have Black women experience that, it's unconscionable," she said.
Omar said this issue is an important issue not just the women of the Congressional Black Caucus, but also to the men who understand how critical this issue is.
Omar on supporting economic development for Black Minnesotans
"As you know, last summer I brought a historic delegation of the Congressional Black Caucus to visit our district, because I knew that there are opportunities and challenges that exist for Black Minnesotans here that are not often talked about when you hear Minnesota being the greatest for everything," Omar said. "I wanted my colleagues to be on the ground, to hear from the people who are living through these challenges and people who have been working in creating opportunities so that we can have partnership in trying to deliver an economic package for them."
"We've been really successful last year in the appropriations season, we've delivered $3 billion back to the district, and right now as we're going through appropriations, I've been working with Congresswoman Betty McCollum, and we've gotten $13.5 million just for the Twin Cities, 2.5 of that is earmarked just for Minneapolis on Broadway and Lake Street, so that we can start the process of rebuilding and making sure our communities are back up and running, and our small businesses are supported," said Omar.
Fifth district voters are overwhelmingly in support of Omar's work in congress. A recent poll shows that she holds a favorable lead over her challenger and 74% of voters approve of her job performance.
Voters can still vote via mail. To learn more on voting options for the next week's primary contact the Secretary of State at www.sos.state.mn.us.