Previously published on Medium (https://irmamcclaurin.medium.com/africatown-redemption-voyage-reclaiming-what-was-lost-eef1cc5cb382 ), Mar 17, 2023
"Old pirates, yes, they rob I/ Sold I to the merchant ships/ Minutes after they took I/ From the bottomless pit/ But my hand was made strong/ By the hand of the Almighty/ We forward in this generation/ Triumphantly/…
Won't you help to sing/ These songs of freedom?/ 'Cause all I ever have/ Redemption songs/ Redemption songs. ~Bob Marley and the Wailers
Last month, April, was one filled with many surprises. On April 14, 2023, in Africatown, Mobile, AL, there was a press conference to launch the "Redemption Voyage 2026" –a trip that would reverse the route of the Atlantic slave trade.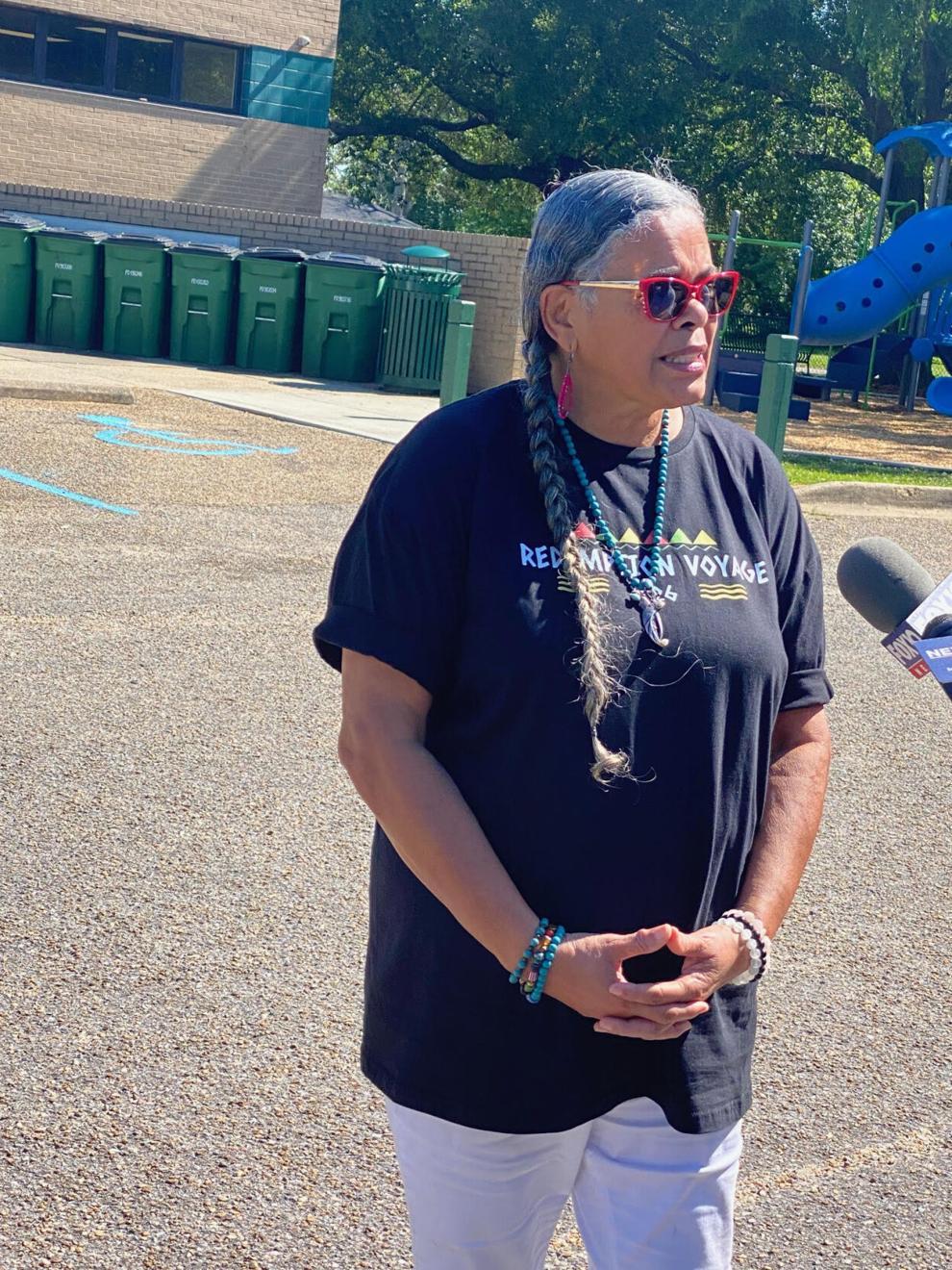 At the press conference to announce this journey was Audri Scott Williams (https://audriscottwilliams.com/ ).  Listening to Williams explain her purpose to the local Mobile TV stations and press means hearing a visionary and person of conviction speak truth (https://mynbc15.com/news/local/redemption-voyage-will-re-trace-clotilda-trek-to-benin-west-africa-from-mobile ). She spoke with eloquence, passion and an understanding of the sorrow that enslavement has cast upon Black Americans, including the descendants of those who travel to America on the last slave ship.
"Americans of African descent have a challenging time finding our 'place' in the celebrations due to the scars of slavery, discrimination, and violence." ~Audri Scott Williams, on the 2026 Redemption Voyage
Williams is not new to attracting attention. The Los Angeles Sentinel talked about her gaining international recognition as a Global Peace Advocate and describes her as "…the first woman to lead a global walk for human rights and environmental justice in 2000" (https://lasentinel.net/global-peace-advocate-to-unveil-redemption-voyage-to-historic-africatown.html ). She was also the first African American woman to run for Congress in Alabama, District 2 (https://www.bamapolitics.com/alabama/profiles/audri-scott-williams/).
She is currently the Spiritual Director of the Spiritual Enrichment Center in Dothan, Alabama, as well as the Spiritual Advisor for 20 Million Women Strong (https://20millionwomenstrong.org/). It is this group, #20MWS, that will sponsor this unusual voyage led by Williams.  They are an organization committed to "…advancing women's access to careers and entrepreneurial opportunities in science, technology, engineering, the arts, and math through innovation in 3D design, modeling, and production."  
The "Redemption Voyage" will depart in 2026 from Mobile River, Alabama, now known to be the documented gravesite of the sunken Clotilda, the last slave ship that illegally transported 110 Africans to Mobile in 1869 (https://www.mobile.org/things-to-do/history/african-american/clotilda/ ). Only 101 survived the journey, and their descendants now occupy an area not far from downtown Mobile called Africatown.
Since the Netflix documentary, "Descendant," aired September 29, 2022 (https://www.netflix.com/title/81586731), all sorts of people and projects have visited Africatown to hear the story recounted of the last slave ship and the arrival of stolen Africans in 1860. An exhibit of fragments of the sunken ship will be on display at the Africantown Heritage House on July 8, 2023.
It was in this same community within Mobile, Alabama, in 1927 that Zora Neale Hurston discovered "Cudjoe Lewis" and documented his story in her a nonfiction account, Barracoon: The Story of the "Last Black Cargo." In her correspondence to Langston Hughes, Zora wrote of meeting a "real African, Cudjoe," also known as Ouluale Kossola, and believed to be the "last survivor" of the Atlantic Slave Trade.
Dear Langston, I am leaving for the South on Wed. 14th on the 3:40 from the Penn Station to Mobile.  I shall see Cudjoe Lewis […an eighty-year old survivor of the Chlotilde [sic], the last ship to bring Africans to the United States] first as he is old and may die before I get to him otherwise. Lovingly, Zora (dated Dec 9, 1927. From Zora Neale Hurston: A Life in Letters. Collected and Edited by Carla Kaplan, p.110.
We now know there were more survivors than Cudjoe, and a few who actually were taken beyond Mobile.
What makes Hurston's account of interest is that she transcribed Cudjoe's words as he spoke them in a vernacular language that was part African and part English dialect.  When presented to publishers, they asked that she "translate" to book into "standard English." 
The Viking press again asks for the Life of Kossula (Cudjoe)but in language rather than dialect. (To Godmother, dated Aug 14, 1931). From Zora Neale Hurston: A Life in Letters. Collected and edited by Carla Kaplan, p.228.
Hurston refused, and her manuscript remained unpublished for 87 years, and only saw print in 2018.
A Different Return to Africa

While standing in the blazing mid-morning Alabama sun, Williams wore a black t-shirt emblazoned with red, yellow and green triangles, the colors of Marcus Garvey's Back to Africa movement, but also the colors of the flags of many African flags countries, Audris eloquently explained to the press why Africatown, AL and why now.
She was surrounded by a protective, spiritual entourage of elder Black women, who represent what Black Museum anthropologist Deborah Johnson-Simon calls "kulture keepers." Some have joined Williams on her Global walks.  Also present was her own Black documentary film crew, as well as a Sankofa African drummer from Montgomery, AL, who by day works in an Environmental government agency. The group was shepherded to important spaces/places by local Africatown historian, Joe Womack.
Williams described the launch event as a chance for a group of Black students to "…not only read about the history but to actually experience and be a part of that history. And we're seeing this as an opportunity for the entire country to be uplifted by just the energy that will come back that speaks to freedom—that's what our country is all about."
The 2026 departure date of this maiden voyage was intentionally planned to coincide with the 250th anniversary of the founding of the United States of America—America 250 (https://www.america250.org/ ).
Several aspects will distinguish this journey to Africa from other return programs, like the Ghana, Year of Return 2019, sponsored by the country of Ghana for ADOS (African descendants of Slaves) to return home to Africa (Year Of Return – Celebrating 400 years of African Resilience…) https://www.yearofreturn.com/ .
The Redemption Voyage 2026 is unique in that it will be comprised of an intergenerational group of these elder Black women and around 20 Black young adults between 18-28 years old. The participants will be involved in STEAM (science, technology, engineering, arts, and math) educational programs and activities focused on climate change, environmental justice, participate in genomics (DNA testing), the Arts, and African history for starters.
Making Africatown the launch site, Williams intends to recruit local young adults from among Mobile's Africatown descendants as well as Blacks whose ancestors were enslaved in the Mobile area.
Remaining participants will be drawn from among HBCUs (Historically Black Colleges and Universities). Most recent data identifies107 such public and private institutions in existence, responsible for educating 228,000 students (http://www.thehundred-seven.org/hbculist.html ). HBCUs were originally founded to educate newly freed enslaved people; today, however, almost one quarter of students attending HBCUs are non-Black.
The Uniqueness of the Redemption Voyage 2026
Williams explained how science, technology and the arts will be employed and then broadcast globally to the world about what is happening on the ship.  To answer one question on what makes this voyage and return to Africa "special," she responded:
What is so special about this visit, and I get chills just thinking about it, is when you are taking a group of young people over, it's not just a sailing opportunity to go on a tourist ship.
They're gonna have…they're going to be caretakers of some very important projects. For instance, one of the things they're going to be doing is looking at climate change impact on the eastern and western shores of the Atlantic Ocean, and then comparing what these communities are experiencing.  They're going to be doing water sampling to see how pollution is impacting the ocean waters. That's just the science project.  But the technology and engineering project, they are actually creating this portal as I mentioned, a satellite portal, where children in school, anywhere in the world, can tap into at any moment what is happening on the ship, what projects are being developed, all of that.
And then with the arts, we have artists who will be selected as well, who will be traveling and these young people are doing one part of the art, and then…the art will be completed in Africa, in the different countries.
So, what makes this unique is that the young people who are going to be a part of this are the future leaders, future scientists, future artists, future engineers, mathematicians.
And they are coming back with a sense of our history, not just stopping at slavery but going even before that when there were great mathematicians, great writers, great scientists. And they are going and connecting with that energy and bringing that forward.  Not as though we started in slavery, but there is a whole history before.
Lifting America as They Learn
What has been lost in the flurry of legislation aimed at erasing or diluting the history of Black Americans (https://www.insightnews.com/education/why-we-must-defend-the-right-to-teach-an-undiluted-ap-african-american-studies-course/article_2d4f0c5e-b3f3-11ed-a5cf-8bea9d5ccb4f.html ) is the reality that EVERYONE loses. The reality is that there is no bliss in ignorance.
Erasing the past, hiding the truth, has never resulted in true social transformation.  To attempt to do so in a technological moment when information is accessible to almost everybody on the planet, about almost anything on the planet, and instantaneously, is nothing short of delusional. 
Be that as it may, the anti-WOKE legislation in Florida, the House File 802 law signed into existence in June 2021 that makes it illegal to teach "…critical race theory and other concepts in government diversity trainings and classroom curriculum" (https://www.desmoinesregister.com/story/news/politics/2021/06/08/governor-kim-reynolds-signs-law-targeting-critical-race-theory-iowa-schools-diversity-training/7489896002/ ) will only result in an American citizenry ignorant of its own history and oblivious to the harm that America has done to its own democratic principles.
With such legal efforts to censor what can and cannot be taught in schools about race relations, enslavement, and the true history of accomplishments of African Americans and Africa, the import of 2026 Redemption Voyage cannot be underestimated.
To Williams, the power of this voyage will be in the new knowledge participants gain about climate change, learning to conduct scientific experiments, finding out their own DNA story, participating in collaborative research, and creating collaborative art, and the like.
Participants will also experience what it means to share their learning with the world, thereby lifting America up from the pits of white supremacy ignorance into which it has fallen of late. Says Williams,
…[The] dynamic of that connection [to the history of Africa] not only empowers the young people who are part of this, that dynamic lifts the whole nation.
©2023 Irma McClaurin
Irma McClaurin (https://linktr.ee/dr.irma) is an activist anthropologist, the Culture and Education Editor for Insight News, a columnist, and occasional radio and television commentator and recently appeared in the PBS American Experience documentary "Zora Neale Hurston: Her Own Way."  She is the CEO and senior consultant for Irma McClaurin Solutions, a past president of Shaw University, and former Associate VP at the University of Minnesota and founding ED of UROC. Recognition includes 2023 Honorary Degree from Grinnell College, 2021 American Anthropological Association's Engaged Anthropology Award, 2015 "Best in the Nation Columnist" by the Black Press of America, and 2002 "Outstanding Academic Title" for Black Feminist Anthropology: Theory, Politics, Praxis and Poetics. McClaurin is a digital author on Medium and for Ms. Magazine. Her collection, JustSpeak: Reflections on Race, Culture & Politics in America, is forthcoming in 2023, and she is working on a book length manuscript entitled "Lifting Zora Neale Hurston from the Shadows of Anthropology."