See our previous tournaments articles here:  
https://www.insightnews.com/sports/somalia-in-the-u17-afcon-hope-in-the-horn-of-african-football/article_50fac4f4-e7dd-11ed-897d-cffecd8bc97f.html
and
https://www.insightnews.com/sports/u17-afcon---algeria-vs-somalia-2-0-a-tactical-breakdown/article_1d9465c0-e89b-11ed-b77e-9fe0568b213e.html
Congo possess a respectable trophy cabinet consisting of 1972 AFCON in their historic run, and a U-20 AFCON in 2007 while hosting the tournament, winning a trophy on their home ground. Congo won a 3rd place medal in the U-17 AFCON in 2011. Congo is not recognized by many in the pantheon of African football but this team really has a future
Congo's roster has numerous players who play in French youth academies, France being one the hot spots in European football development. So, in terms of advanced development, Congo had the upper hand in it recent matchup vs Somalia.
The Congo lineup along with their academies can be found here on transfermarkt
*https://www.transfermarkt.com/republik-kongo-u17/startseite/verein/31519*
Somalia's lineup found here on transfermarkt
*https://www.transfermarkt.us/somalia-u17/startseite/verein/105350*
The Congo Red Devils:
Watching the Congo play is a really tricky thing to analyze. Congo doesn't seem to have a patent style of play. Manager Fabrizio Cesana allows the kids to play however they wish to play so long as they have compactness in the back and play according to their position. Congo relied on toughness and aerial attacks as well as overloading the midfield and trying to overwhelm the Somalia Ocean Stars. The most fascinating aspect of Congo's play is the back line and how they shift. They based a lot of their game on width and with that the fullbacks were constantly booming forward. On top of that their centerbacks would play on the ball relatively high up mainly with Brad-Hamilton Mantsounga Makouangou their left center back from OGC Nice.
He's only 15 years old.
Like I said before, being able to play wide was pivotal to Congo. Ayel Wumba Niati Nzouzi was immense, dribbling through the deep Somali defense and finding the gaps and exploiting them. Beside the goal he scored, he was a constant threat the entire game and getting the ball to him wasn't complicated. Congo sent the ball to their play makers, letting them play their ball.
There is a reason why they were able to be so free and without any tactical reliance but I will get to that on the Ocean Stars section of the breakdown.
But on to the next segment of the formation and movement.
The Formations of Congo:
Congo entered the game in a 4-3-3 but very rarely did they maintain this shape because the game wasn't really played in the midfield. Occasionally they come in narrow in the midfield with a few passes strung together but for the ambition to play wide and push forward. That's how Congo's front-footed approach got them 26 shots.
The narrowness would come during aerial moments and to attempt to overwhelm the middle and when the ball was won they would try to create triangles with the wide players and play.
When in a goal kick position and playing out the back, Congo often skipped any forms of proper or traditional build up and would focus on the fullback and gave #4 Makouangou the keys to play in the back.
The Ocean Stars:
In the last report I talked about Somalia's tactics, not accounting for the personnel and how it didn't cater to their strengths. Coach Nuur Amin saw and changed immediately. With an addition in the middle field being Idriis Aden, Somalia found a creative outlet in the middle and decided to have him sit deep and handle a lot of the technical responsibilities (turning and controlling deep). In the breakdown prior, I advised Somalia to base their game around the counter and to not be concerned with controlling the game and keeping possession for sake of keeping possession. Having a low block would not only help Somalia keep Abdkadir Ali but it's also their best chance at creating scoring opportunities.
In the Algeria game they played a 4-4-2 and channeled the possession centrally. In this game they took Dini Mohamed Dahir and dragged him to the RM/RW spot and had Aden in the center with Bahur taking the ball from each counter. They still transitioned into a 5-3-2 out of possession but continued to lack compactness. Although Somalia didn't traditionally dominate this game their counters provided a real threat and had you on the edge of your seat and had you jumping out of it because Somalia scored their first goal in an international competition in history. In technical ability, these players have been improving. And the fluidity of Somalia has been improving. You can tell that their next game will be their best. Idriis Aden was superb and easily the best player on the pitch. If Somalia continues in this pattern of patching their mistakes each game they can definitely get into the knockout round.
Defensively, Somalia repeated numerous mistakes from the last game, lacking a lot of compactness in their backline and continuing to leave gaps. The philosophy behind low blocks is you allow a high volume of low quality chances. Somalia allows far too many good chances and rely on the heroics of the keeper and the occasional one vs one tackle. Of those many chances most of them had a high percentage to be scored in my opinion.
Somalia took their chances on the poor striking of Congo but that doesn't fly with a championship caliber side like Senegal. The gaps within the defense and midfield allowed Congo to go in transition and the wide players to cut in and around their defensive shape and still create quality opportunities. On Somalia's bench there's a center back named Hassan Barre who plays in the Leicester City Academy. The 15 years old is technically and positionally sound, given that he plays for a top academy in England.
 I believe he will provide stability in the back line.
The goal that Somalia conceded like every goal this tournament is more on Somalia than on the opponent. The ball was sent through in the 50th minute and both defenders were oblivious to the threat of Nzouzi. Both defenders thinking the other would mark the presser, jogged and allowed him to get a shot. Towards the end of the run they did provide some form of contention. Abdikadir just unfortunately fell asleep on his near post, closing in but not thinking it would go there and unfortunately it did. Somalia needs sharpness, and alertness in order to keep their defense impenetrable.
History Made:
The importance of this game is huge, Somalia gaining their first point and first goal is a moment that will only be built on for future generations. The fact that it is our youth team scoring and making us proud to me is a symbol that the children and possessors of the future are the ones who will bring pride to our nation and our names. The brotherhood shown by Dini Mohamed after he scored pointing at star boy Abdihafid after not qualify adds to the feel and symbolism of the entire moment. In the biggest moment of our federation's history he dedicates his goal to the people who got him there, a story known well by diaspora. For me it was so amazing to see my people just be happy about one thing and love each other because they are all Somali.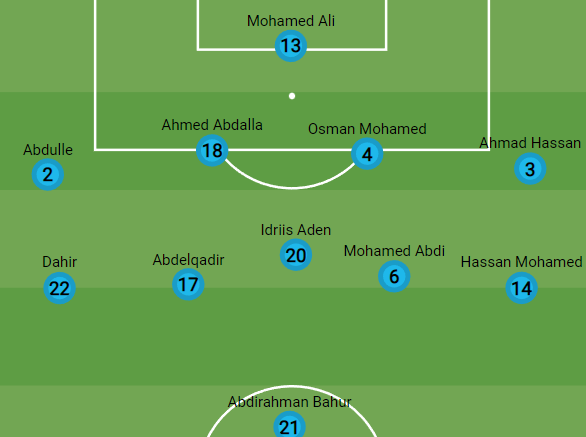 Favorite players:
MID - Idriis Abdiwahab Aden - IFK Uddevalla (Somalia)
MID - Yasiin Abdirahman Abdelqadir - Lyn 1896 (Somalia)
ATT - Dini Mohamed Dahir - Banadir SC (Somalia)
ATT - Ayel Wumba Niati Nzouzi - AC Capaco Beni (Congo)
DEF - Brad-Hamilton Mantsounga Makouangou - OGC Nice (Congo)