Algeria U17 National Team:
Algeria has a very decorated and seasoned national team from the senior side all the way down to their U-17 team. In the past, Algeria gloated over its numerous achievements ranging from invitational and regional trophies to an AFCON title in 90', silver medal in 80' and bronze medal in 84' and 88'. Their youth teams have a U-20 AFCON in 79' followed by 3 bronze medals in 81',83' and 89'.
Their senior team won the AFCON in 2019, the FIFA Arab Cup in 2021, finished in 2nd in the more recent African Nations Championship in 2022 and lastly went through on the round of 16 in the 2014 World Cup. Algeria's U-17 side is also very successful having won the UNAF Tournament 4 times and just recently winning the U-17 Arab Cup in 2022.
Algeria has international football experience, history and culture in not only the U-17 competitions but all over the board. Their manager, known for playing a 4-4-2 and 4-2-2-2 throughout the Arab cup, relies on proper wing play, width in pressing, strength in the midfield, and having forwards who can do it all with their pressing, able to drop deep and run in behind.
Other than the transitions from out of possession play, Algeria demonstrated quality decision making and strength conditioning of their players. Their young but seasoned players delivered a more polished style of play, a credit to the European academies where they trained.
Here is the Algeria Desert Foxes formation and the academies that produced these players.
Starters:
Defense:
GK - Mastias Hammache, Age:16, Academy:CF Montreal (MLS, D1 USA)
RB - Yakoub Gassi, Age:17, Academy: Academie SBA FAF (Algerian Youth Academy)
CB - Abdelhak Ben Idder, Age:16, Academy: Paradou AC  (Algerian Ligue 1, D1 Algeria)
CB - Rami Bouaouiche, Age:16, Academy: Academie SBA FAF (Algerian Youth Academy)
LB - Fadi Ben Abdelkader, Age:16, Academy: Academie SBA FAF (Algerian Youth Academy)
Midfield:
RM - Zyed Beltaief, Age:16, Academy: AC Ajaccio (Ligue 1, D1 France)
CM - Younes Benali, Age:16, Academy: FC Nantes (Ligue 1, D1 France)
CM - Youcef Belkaid, Age:16, Academy: Paradou AC  (Algerian Ligue 1, D1 Algeria)
LM - Yanis Ferhat Delaveau, Age:16, Academy: AS Nancy (Championnat National, D3 France)
Forwards:
CF - Moslem Anatouf, Age:16, Academy: Academie SBA FAF (Algerian Youth Academy)
CF - Shain Chetioui, Age:16, Academy: AC Le Havre (Ligue 2, D2 France)
Subs:
Defense:
GK - Tarek Hamadi, Age:16, Academy: Paradou AC  (Algerian Ligue 1, D1 Algeria)
DEF - Faiz Amem, Age:16, Academy: Academie SBA FAF (Algerian Youth Academy)
DEF - Nadir Yakoubi, Age:16, Academy: Academie SBA FAF (Algerian Youth Academy)
DEF - Hocine Adem Arous, Age:16, Academy: AJ Auxerre (Ligue 1, D1 France)
Midfield:
CM - Amine Galou, Age:17, Academy: Paradou AC  (Algerian Ligue 1, D1 Algeria)
MID - Ala Eddine Limane, Age:16, Academy: Academie SBA FAF (Algerian Youth Academy)
Attack:
ATT - Mohammed Abdelmoudjib, Age:16, Academy: Hércules CF (Segunda Federación–Group 3, D4 Spain)
ATT - Issam Yazid, Age:16, Academy: CR Belouizdad (Algerian Ligue 1, D1 Algeria)
ATT - Djibril Helies Bahlouli, Age:16, Academy: OL Lyon (Ligue 1, D1 France)
ATT - Mohamed Ali Saleh Ziad, Age:17, Academy: Zamalek SC (Egyptian Premier League, D1 Egypt)
The Desert Foxes Approach:
The Algerians had a unique and narrow formation only drifting to the wings on occasion. They weren't as creative in the final third but with the ball in the midfield they were given more reign on how to play to buy time to send balls up top to the forwards.
In the first 10 minutes Algeria established the tempo by taking the ball and playing it through their backline. They weren't challenged by any press, by any physicality from the Somalia Ocean Stars and would break lines with one pass.
With  no pressing from the Somalis, the midfield lines were broken with only one pass. Somalia failed to  anticipate, to intercept the ball or scan. Such lack of awareness from Somalia gave Algeria free reign to make book moves.
Once Algeria gained possession in the midfield, they utilized their physicality and technical ability and were expressive in beating their defenders. The idea is once you break, you send the ball forward. Algeria maintained possession by having a deep lying midfield pair and creating a flat four above the box, having the two centerbacks and the goalkeeper in the box until they breached the midfield.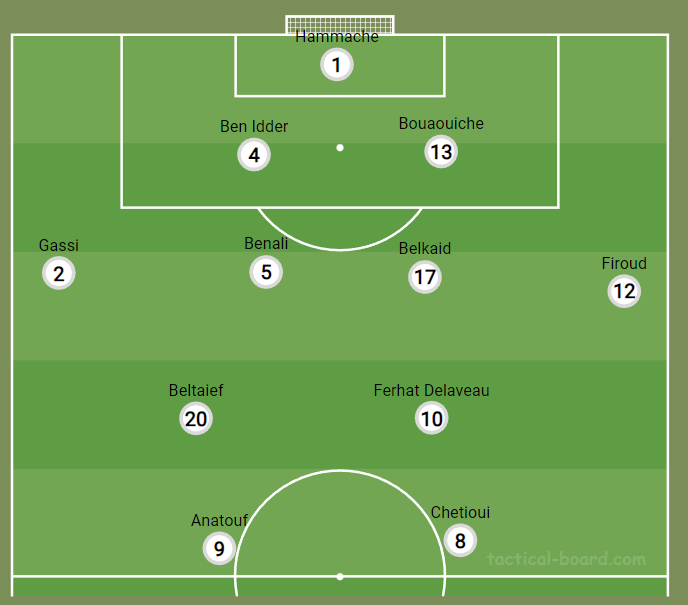 The shape they operated in possession was a 2-4-2-2 and out of possession they would quickly rotate into 4-2-4 in the press and have the wide midfielder and on occasion the strikers drop back to cover the midfield making a 4-4-2. In the moments where Somalia was in Algeria's final third they had nine people in and around their box with their number nine, Moslem Anatouf, at the halfway line.
Algeria made opportunities and maintained dominance throughout the match.
Somalia, despite having 53% possession, didn't possess the ball as a unit. Every moment they had the ball they were pressured with Algeria's physicality and proper pressing lines. They had possession, but they didn't utilize it entirely.
Algeria played rigid, very by the book football with limited moments of freedom while relying on clean passing, strength, and decent decision making.
When Algeria scored their first goal, Somalia began to be on their toes and pressed more. Regardless of that adaptation, the benefit of experience and excellent training at high quality academies played a role into Algeria's success by simply getting more reps to be able to make smarter decisions.
Whenever the Desert Foxes were in wide positions, they went about business in three ways. One, a creative dribble, Zyed Beltaief was a clear example of this for Algeria. Two, a back pass to the full backs to then reset possession. And finally they would put their back to the defender and look for a set piece opportunity. Their set pieces were planned out and organized, ironically enough designed to exploit the back post despite them scoring a set piece from the front post.
The Algeria Desert Foxes were simply stronger and if it weren't for Abdikadir Ali Mohamed in at goal it would have been ugly for Somalia. The frustration he expressed throughout the game was justified.
Somalia U17 National Team:
Somalia does not have any rich history in international competitions. In fact, they have no history in any qualified tournament ever. Our U-17 side nearly won the U-17 CECAFA Cup in 2018 but fell short to Tanzania in a 2-0 defeat. Other than that, our senior team never got out of the CECAFA cup group stages.
The goal with Somalia right now is, like Algeria, to be able to connect to the diaspora and help the players in Somalia to gain exposure abroad, to get opportunities to show off their talents.
Somalia Roster:
The Somali players are very young. With the loss of their starboy Abdihafid, it has been difficult for them to play the kind of football that brought them to this stage. Somalia operates in a very defensive shape that is the 4-4-2 and in this shape they try to control the tempo in the midfield and utilize short passes to create opportunities in the channels to then be able to make chances. The glaring flaw in this is that Somalia players are severely undersized. By contrast, the Algerian playstyle is physical and has 2 DMs sitting deep on the press.
In my opinion this approach was forced and didn't cater to the strengths of the roster. I believe the attempt was to concentrate the more technical players, Abdirahman Bahur and Yasiin Abdirahman, in the midfield.  When out of possession Somalia played a 5-3-2 but it wasn't compact.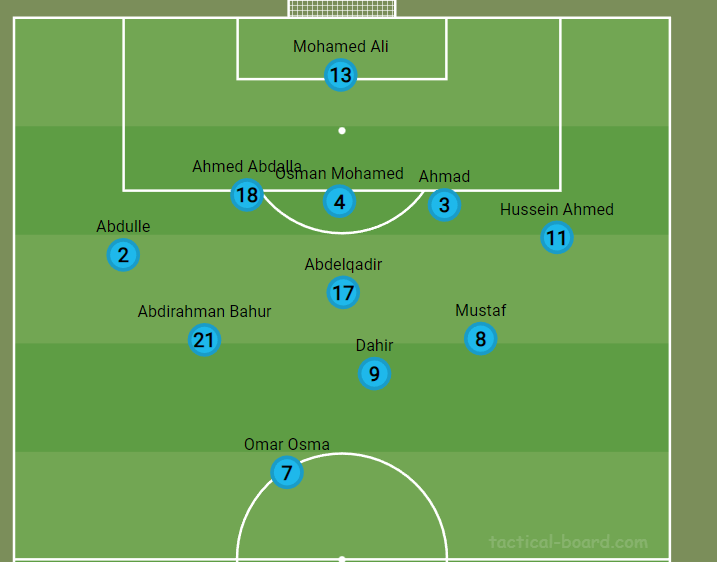 Generally when you play a disciplined defensive style the core tennant to any of those systems is compact and tight defending, almost like building a wall. Somalia's defenders were clinical in the 1v1 situations, chasing their runners in the channels. Abdikadir Ali's miraculous saves also played a huge role in making the leaky defensive structure look bearable.
Contrary to most football principles, I believe Somalia's trying to play possession football ultimately played into the hands of the Algerians and amplified the football Algeria played rather than worsening it or making it difficult. Somalia very obviously has the players that perform, apparent in numerous glimpses of skill from players like Abdiasis Bahur, Yasiin Abdirahman and even the cameo from Idriis Aden.
But the style that they are forced to play takes time and a lot of preparation and maturity which Somalia does not have. When Somalia was most threatening they were running at defenders on the wings and cutting in for layoffs and getting corners. If the Ocean Stars play counter-attacking football in a compact 3-5-2, they would not only solve the leaky defense errors but they would get to play to the strengths of their personnel.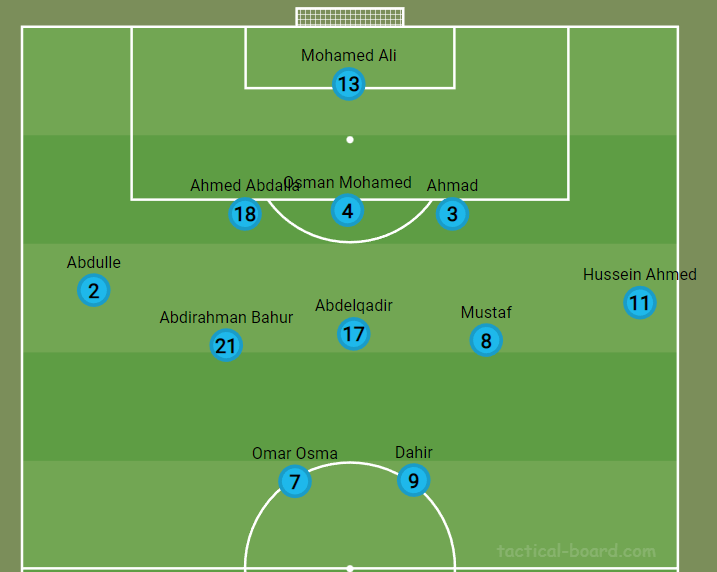 Favorite Players of the Game:
LB - Fadi Ben Abdelkader (Algeria)
RM - Zyed Beltaief (Algeria)
CF - Shain Chetioui (Algeria)
RM - Abdiasis Abdirahman Bahur (Somalia)
CM - Yasiin Abdirahman Abdelqadir (Somalia)
GK - Abdikadir Ali Mohamed (Somalia)
LB - Khalid Ahmad (Somalia)